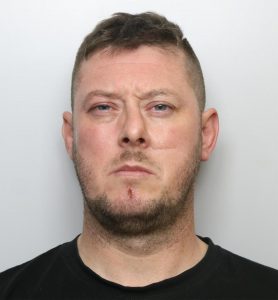 A 37 year old man from Castleford has today (Wednesday May 23) pleaded guilty to racial hatred offences.
Wayne Bell of Mount Walk, Castleford pleaded guilty to two offences of stirring up racial hatred, contrary to Section 19(1) of the Public Order Act 1986 and 3 offences under the Criminal Damage Act 1971 at Leeds Crown Court.
He has been sentenced to 4 years 3 months imprisonment.
Bell was arrested by Counter Terrorism Policing North East in September 2016 after reports that posts of an extreme right wing racist nature had been made on social media.
He was also found to be in possession of racially abusive stickers, identical to ones which had been placed around the local area.
Detective Chief Superintendent Martin Snowden, Head of CT Policing North East said: "Activity like this has the potential to both influence vulnerable people and threaten the stability of our communities by inciting hatred and threatening public safety and security.
"We will not tolerate any action which attempts to undermine or divide our communities and will continue to counter extremism and terrorism in all its forms.
"The CT network, in conjunction with local police forces, works hard to identify and arrest and bring to justice anyone espousing hatred and extremism. The public are key in helping us do that and we would encourage them to bring any posts, websites or activity of concern to the attention of police in confidence on 0800 789 321
Anyone who has concerns regarding online content can report the material anonymously via www.gov.uk/ACT
Chief Superintendent Mabs Hussain, District Commander of Wakefield Police, said: "We welcome Bell's sentence today for what are serious offences intended to cause disharmony between communities, and I am very pleased with the investigation conducted by colleagues at Counter Terrorism Policing North East.
"The Wakefield District overwhelmingly enjoys good and positive relationships between its various communities and I am pleased that extremists such as Bell are in a very small minority indeed.
"We work hard to promote and encourage positive community relations as a local force and often see real examples of this, such as last June's community Iftaar in Wakefield .  That event alone attracted thousands of people from differing faiths and also of no faith who recognised what little difference there was between them, helping bring them together as individuals and communities.
"Wakefield Police take all reports of racial hate incidents extremely seriously and will not hesitate to prosecute anyone who seeks to offend in this way."