2019 Campaign Partners Toolkit
Counter Terrorism Policing is launching an thirteen-week 'Communities Defeat Terrorism' cinema advertising campaign on Wednesday 23 January. The campaign will now run until 28 April 2019.
The terror threat remains high, and with record-numbers of live investigations involving some 3,000 individuals posing the greatest threats, the need for public information to help keep communities safe has never been higher.
This latest campaign aims to increase awareness of the enduring threat whilst highlighting what the public should look out for and how to report their concerns via gov.uk/ACT.
Aimed at a cinema audience, and designed to run during the trailers, the 60-second film will feature bespoke, localised calls to action in an effort to fully resonate with the viewers.  Using cinema to deliver the campaign ensures the message is received with fewer distractions, more impact and to more hard to reach audiences, including younger people.
120 cinemas in nine regions across England, Wales and Scotland will showcase the film. The average cinema attendance in the UK across January and February is roughly 30million. This advert will hopefully be seen by hundreds of thousands of people who will then be better prepared to help police protect the UK against terrorism.
We are inviting partners and stakeholders to promote the campaign and encourage the public to report suspicious activity.
Content & Resources
2019 ACT Cinema Film
You can view, share and embed the ACT film from YouTube or Vimeo. Download the Video For Social Media. 
Press Release
The Press Release is embargoed until 00:01 on Wednesday 23 January. 
Social Media Content
New Videos, Images & Graphics are available to support the campaign. Please share the content with your digital teams.
If you are unable to access the videos or still imagery via Box, you can download from WeTransfer here. Please note: this link will expire on 30th January 2019.
Below are suggested posts. We encourage you to share these on your channels natively, tailor it to your audiences and mix between video and graphics. If you require the content in different formats contact nctphq.comms@met.police.uk
Suggested Post 1
Unfortunately, life has no rewind button ⏪
Seen something suspicious? Look again 👀
Reporting it won't ruin lives, but it might save them. If it doesn't feel right, ACT.
📲 www.gov.uk/ACT
#ActionCountersTerrorism
Suggested Post 2
Look again 👀 …it could save lives.
We're supporting @terrorismpolice in working to keep the UK safe from terrorism.
Reporting suspicious activity won't ruin lives, but it might save them
📲 www.gov.uk/ACT
#ActionCountersTerrorism
Our Channels
The campaign hashtag is #ActionCountersTerrorism
Please share content from our social media channels:
Internal Communications Resources
Intranet Article
You can adapt our intranet news article for use within your organisation.
Display Screen Graphics
You can download the following graphics to use on your building's display screens and website by clicking the images below:
These clips can be used on your display screens: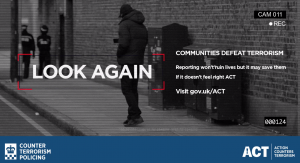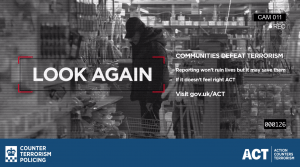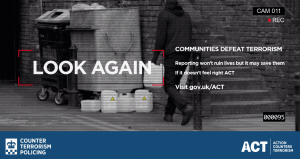 ACT: Action Counters Terrorism
ACT Background
In March 2017, Counter Terrorism Policing launched ACT: Action Counters Terrorism, a branding platform that incorporates our counter-terrorism external campaigns to warn, inform and reassure the public. The Communities Defeat Terrorism ACT campaign aims to inform the public and encourage them to report suspicious activity.
There have been multiple terrorist attacks in the UK resulting in a change of rhythm and tempo in police investigations. We must continue to educate the public about the different attack planning methods beyond 'the suspicious package' and encouraging them to help us stop attacks by reporting suspicious activity.
Thanks to your support, during the March 2018 campaign, we saw intelligence from the public nearly double. We ran a four week online video campaign, which was supported by our partners across Government, local authorities, police forces, businesses and charities.
You can also use the following posters and leaflets to display inside your organisation's building for general use. They have been provided in PDF and InDesign formats should you need to resize the image or add your organisation's logo. If you require InDesign files please contact nctphq.comms@met.police.uk
How You Can Help
A3 Campaign Poster
A5 Leaflet
A4 Campaign Poster
A6 Leaflet
ACT logos
The logos below can be used for promoting the campaign.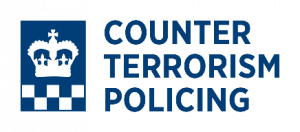 Branding Guidelines
We have also provided guidelines with helpful information on how to use the ACT logo and branding. You can download the ACT-Brand-Identity-Guidelines.