A Walsall man has been found guilty of possessing explosive material and manuals on how to make improvised explosives and firearms.
UPDATE: Vaughn Dolphin has today (11 May) been jailed for eight years and six months.
Following an investigation by counter terrorism police, Vaughn Dolphin from Walsall Wood Road in Aldridge, Walsall, was arrested on 27 June 2022 at an address in Cheshire on suspicion of terrorism offences.
WATCH: How CTP West Midlands CTU brought Vaughn Dolphin to justice
Today at Birmingham Crown Court he was found guilty of two offences of possessing chemicals to make explosive material, despite claiming that he had bought the material to get rid of a tree stump in his garden.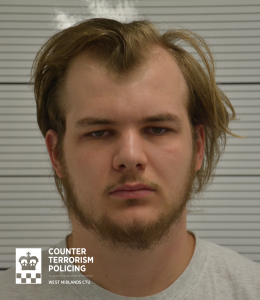 Dolphin, aged 20, was also found guilty of six offences relating to the possession and distribution of terrorist manuals.
He was also convicted of two further charges of disseminating a terrorist publication, being reckless as to whether terrorist activity would be encouraged, as well as a charge of possession of a firearm.
He had taken a lot of interest in terrorist attacks in New Zealand and the US including downloading manifestos drawn up by the attackers.
Video was shown to the jury of Dolphin wearing homemade body armour adorned with Nazi symbols however he claimed he had wanted to wear it at a cosplay convention, where people dress in costumes of real or fictional characters.
He will be sentenced on 11 May.
Detective Chief Superintendent Mark Payne, head of Counter Terrorism Policing West Midlands CTU, said: "Dolphin had claimed he had an interest in chemicals and military memorabilia however he combined a toxic extremist mindset, sharing right wing material online with the real-world acquisition of explosive material and homemade weapons.
"His mindset is one of a dangerous individual equipping themselves to harm others who did not look like him or who he disagreed with.
"Extremists use this kind of ideology to create discord, distrust and fear among our communities, our work to target dangerous individuals continues."
Every year thousands of reports from the public help police tackle the terrorist threat. If you see or hear something that doesn't seem right, trust your instincts and ACT by reporting to police in confidence at gov.uk/ACT.
Reporting won't ruin lives, but it could save them. Action Counters Terrorism.
Remember, in an emergency, always dial 999.