Counter Terrorism Policing is working with music venues and UK festivals, to help people enjoy their post-lockdown live events safely this summer.
The #BeSafeBeSound campaign was created in 2019 with the aim of sharing simple safety and security advice for music-lovers.
This year, Counter Terrorism Policing is working closer than ever with some of the country's biggest promoters and venues to ensure the campaign reaches as many people as possible.
Creamfields, Radio 1's Big Weekend and The O2 are amongst those supporting the campaign, and will be sharing #BeSafeBeSound safety advice on big screens and social media.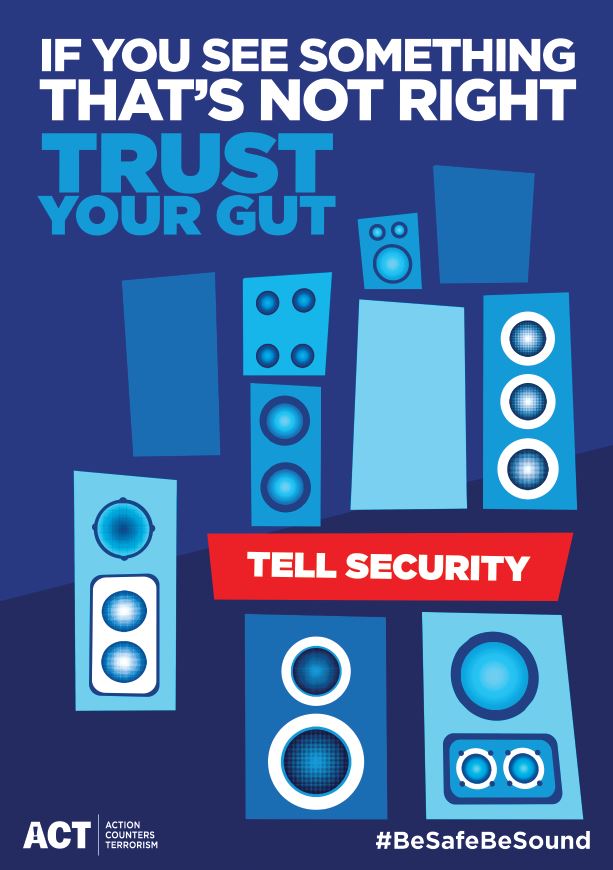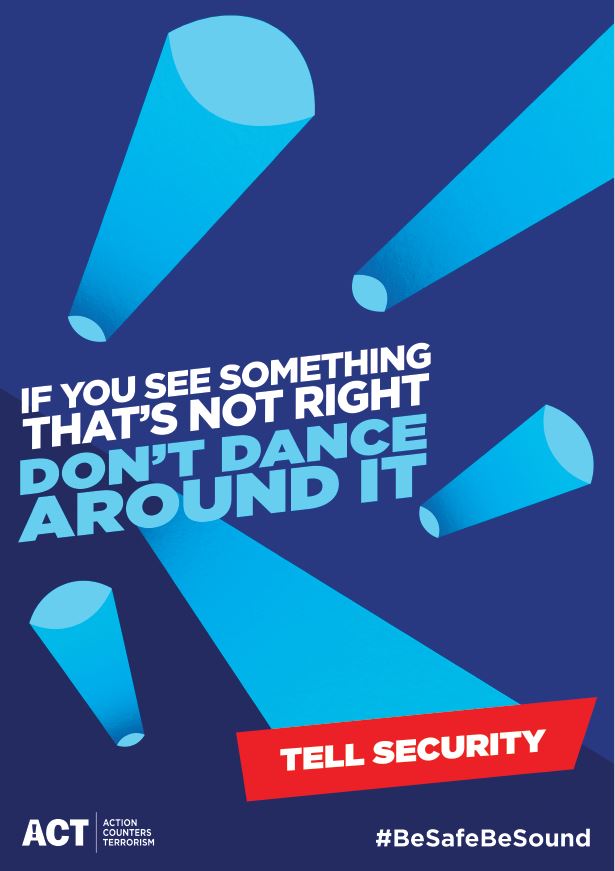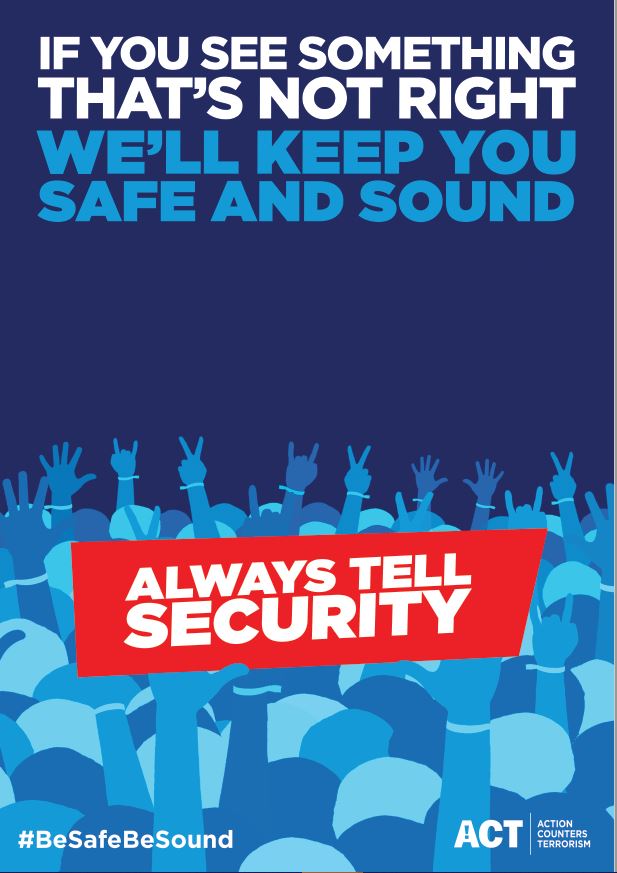 Whilst there is no intelligence to indicate an increased threat to festivals or music events, Counter Terrorism Policing's National Co-ordinator for Protect and Prepare, Chief Superintendent Michael Orchard, is urging the public to follow and share safety advice:
"This summer we're expecting to see increased footfall at outdoor events, but also the continued return of fans to live music at venues and arenas in our towns and cities.
"Our priority, working alongside festival organisers, is to make sure people can enjoy their favourite artists safely.
"A huge amount of effort goes into training and security measures by organisers, and through #BeSafeBeSound we're keen to highlight the role the public can play in the wider security operation of an event.
"The best advice is always the most simple, we want people to trust their instincts and report anything that doesn't feel right. It's also important to respect security measures that might be in place, and do a little bit of research about personal safety."
UK Music who provide a collective voice for the UK's music industry are supporting the campaign this summer. Chief Executive Jamie Njoku-Goodwin said:
"An incredible amount of work has taken place to make venues and festival sites as safe as they can be. The security and safety of music fans is everyone's top priority in what promises to be a brilliant summer of live music.
"While there's no evidence of any increased threat to live events, it's important that everyone is vigilant and reports anything suspicious.
"We can all play our part in keeping each other safe – so I would urge everyone attending events to stay alert and follow the advice of police and venue organisers."
A spokesperson for Creamfields festival, who are supporting #BeSafeBeSound, said:
"As festival organisers we want everyone attending the show to have a fantastic time, people's safety and security is key to that and remains our top priority. 
"We continue to work with Counter Terrorism Policing to share the #BeSafeBeSound safety messaging at the festival to help give people a heads up about what they can do to look after themselves and each other." 
Visitors to The O2 in London will also be encouraged to play their part in event security over the coming months, as the campaign makes an appearance across the venue. 
Director of Security at The O2, Paul Williams, said:
"We take the safety and security of all our fans and visitors very seriously and will continue to support #BeSafeBeSound and Counter Terrorism Policing here at The O2.
"Security is everyone's responsibility, so help us keep you safe by reporting anything that doesn't feel right to our security and policing teams, and we will always act on those concerns."
Our advice for anyone attending an event this summer:
Arrive early for extra security measures. This will help prevent delays in getting into the event.
Be patient with security checks and don't give security, staff or stewards a hard time. It might seem inconvenient, but these measures are in place to help you.
It is essential that you don't bring unnecessary items to the event; this will help to speed up searches and your entry to the event.
If you spot something that doesn't feel right, report it to police or to security staff immediately: don't leave it to someone else.
If you see something on social media that concerns you, report it.
In an emergency, if you think there is an immediate risk, always call 999 and look around you for help from staff – especially those with radios who can raise the alarm quickly.
Don't leave bags unattended or anywhere they could cause a security scare. And never agree to look after anyone else's bags, no matter how genuine they seem.
If there is an incident, listen to staff and any announcements.
Remember, the chance of being caught in a terrorism incident is small. But if it happens – Run, Hide, Tell.
More information on what to look out for can be found at www.counterterrorism.police.uk/safetyadvice/