Code Severe – A Podcast Series
The untold stories of terrorist attacks from the files of UK Counter Terrorism Policing
Code Severe reveals how major terrorist plots in the UK were foiled by Counter Terrorism Policing. Each story is told by detectives, counter terrorism officers, witnesses and the terrorists themselves.
Listen on Spotify, iTunes, Acast or search 'Code Severe' wherever you usually get your podcasts

Episode One: Multiple Bombings
A man buying 600kg of fertiliser at a store told staff it was for his allotment… but that's enough to cover five football pitches… and fertiliser is also used to make bombs.
Listen and find out how Counter Terrorism Policing tracked a terrorist cell, who were planning an attack in Britain targeting shopping centres, power companies and nightclubs.
They were what we'd describe as players, they'd been abroad, they'd been to training camps and I think they'd rubbed shoulders with other people who have moved on to commit terrorist attacks in the UK and abroad. 
The three elements of a terrorist; you have to be ready, willing, able and all three coming together at the same time is when your tipping point comes. We knew they were ready and willing but we just didn't know they were able. 
As one of the UK largest ever counter terrorism investigations unfolds – known as Operation Crevice – you'll hear the parts of the jigsaw which led to armed raids, with 700 officers searching two dozen locations throughout the country.
Officers discovered a military training manual, a CD detailing Britain's gas and and electricity systems, an explosives handbook plus bomb making chemicals and remote control detonation devices.
Five men were jailed for life, but more importantly hundreds of lives were saved, because someone decided to ACT on their concerns.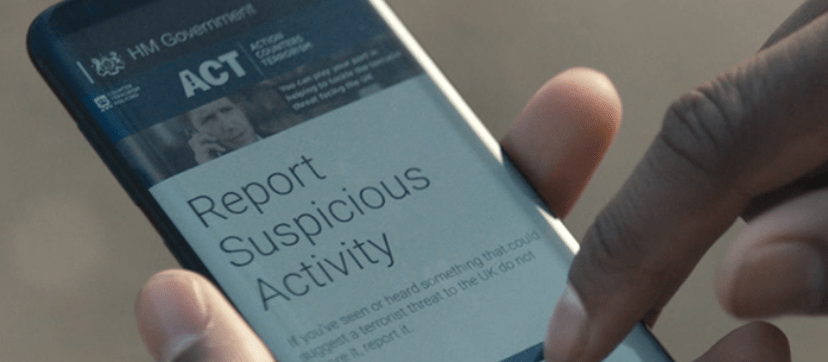 terror related public reports 2018
Episode Two: Hostile Reconaissance
A busy shopping centre, ordinary people are going about their day, unaware a 19-year-old self-radicalised terrorist, is also there making plans to carry out an attack.
Hear how Counter Terrorism Policing foiled a plot which, if successful, could have caused serious harm and loss of life.
From making notes in a shopping centre, asking strange questions, buying unusual items, sharing extremist views, a change in behaviour… would you report it?
There were opportunities and occasions where the terror suspect could have been reported to police. We're urging you to spot the signs of terrorist planning and report it.
Like other criminals, terrorists need to plan and that creates opportunities for police and the security services to discover and stop these attacks before they happen.
But we need your help to exploit these opportunities, so if you see or hear something unusual or suspicious trust your instincts and ACT by reporting it in confidence by phone or online.
That could be someone buying or storing chemicals, fertilisers or gas cylinders for no obvious reasons, or receiving deliveries for unusual items, it could be someone embracing extremist ideology, or searching for such material online.
The important thing for people to remember is that no report is a waste of our time, trust your instincts and tell us if something doesn't feel right.
The ACT campaign aims to encourage the public to help the police combat terrorism and save lives by reporting suspicious behaviour and activity. 
It only takes a moment to report online.
In an emergency, or if you need urgent police assistance please call 999.
You can also report suspicious activity by contacting the police in confidence on the anti-terrorist hotline 0800 789 321.