Counter Terrorism Policing officers have been recognised for their outstanding achievements and commitment to policing in His Majesty The King's first New Year's Honours List
Every year, people in a range of roles across the UK are recognised for their work, receiving a variety of awards in the New Year's Honours list. These include the British Empire Medals (BEM) and the Order of the British Empire (OBE), but there are also awards for those who have shown dedication to policing throughout their career or service.
This year, Counter Terrorism Policing were proud to see a number of their own officers recognised for their work and commitment to keeping people safe.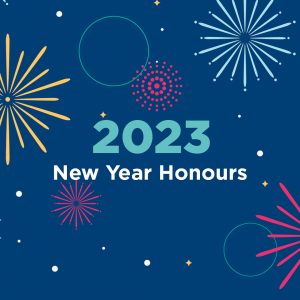 Detective Superintendent Claire Moxon (now retired) – King's Police Medal (KPM)
Claire Moxon received the KPM for distinguished services to the Metropolitan Police Service.
During her career, she revolutionised policing capabilities within the critical field of counter terrorism to ensure ongoing support for the immediate and long-term disruption of terrorist activity.
Recognised as a role model for others, she led the development of the next generation of officers through mentoring and guidance, including both female detectives and officers selected for fast-track promotion.
Police Constable Richard Fox, Counter Terrorism Command and Metropolitan Police Choir – British Empire Medal (BEM)
PC Richard Fox, from the Counter Terrorism Command and the Metropolitan Police Choir, received a BEM for services to policing and music.
His dedication to the choir, alongside his policing role, has led to him revamping it in a myriad of ways, including recruitment and repertoire. His attention to musicality and insistence on excellence ensures consistently first-class performances at high profile events.
PC Fox also dedicates significant time to raising vital charitable funds and has spearheaded many collaborations with nationally acclaimed choirs, bringing further acclaim to the Met's musical achievements.
PC Richard Fox said:
"Being able to use my lifetime's hobby to show a different side of the police and work with the talent the Met has to offer is truly inspiring.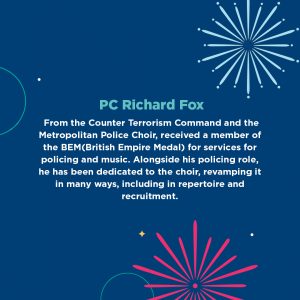 "The choir enables the Met to reach places and people it otherwise may not and to raise money for a vast number of charities and good causes.
"Being nominated for this award is truly remarkable and leading the choir musically, an honour. I would like to thank the choir in its entirety for their support, commitment and drive to continually making the choir as successful as it can be."
Detective Sergeant Paul Griffiths, Counter Terrorism Command – King's Police Medal (KPM)
Detective Sergeant Paul Griffiths, from the Counter Terrorism Command received a KPM for distinguished services to the Metropolitan Police Service.
DS Griffiths is one of the UK's lead practitioners for witness interviewing and has dedicated his career to supporting witnesses and victims of major trauma and terrorism. He is considered an exceptional police officer and his work has had enormous impact upon countless people, in the UK and overseas, it has left a lasting legacy for policing.
DS Griffiths has been responsible for witness repatriation, care, statements and coordination in the wake of multiple major incidents both abroad in the UK. He is currently deployed on the UK War Crimes team, where he has responsibility for a number of high profile and complex cases.
DS Paul Griffiths said:
"I am truly delighted to be the recipient of this honour. Few achievements are those of a single individual and this reflects the hard work, dedication and wonderful support I have been fortunate enough to receive from family, friends and colleagues, both past and present; over the years.
"I would also like to acknowledge my War Crimes Team colleagues, who show tenacity, compassion and professionalism when they deal with extremely complex investigations."
Detective Inspector Jonathan Mearns, Counter Terrorism Command – Officer of the Order of the British Empire (OBE)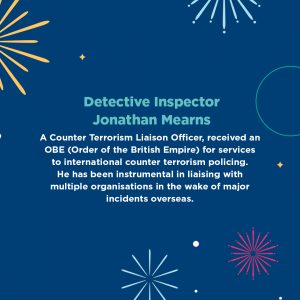 Detective Inspector Jonathan Mearns, a Counter Terrorism Liaison Officer, received an OBE for services to international counter terrorism policing.
In his role as a CTPLO, DI Mearns has been instrumental in liaising with multiple organisations in the wake of major overseas incidents. He has also helped build capacity within international counter terrorism units and governments, overseen deliver of human rights compliant investigators, supervisors and interviewers' courses, and led on countering terrorist financing.
He said: "I am incredibly grateful to those who took the time to nominate me for such an honour. To receive an OBE is an incredible recognition of what I and others do on a daily basis."
Commander Adesola Adelekan, Specialist Operations – Member of the Royal Victorian Order (MVO)
Commander Ade Adelekan, Specialist Operations, received an MVO for services to Royalty Protection, in particular his role in the Platinum Jubilee.
Commander Adelekan said:
"I am truly humbled and feel very fortunate to have been nominated; I am thankful to all my colleagues across the bands and ranks who have supported me throughout my career and through many major policing operations.
"I acknowledge that our successes only happen because of the great teamwork of the people in the Metropolitan Police Service. Thank you to my family, policing partners and colleagues in Team Met."