To mark Neighbourhood Policing Week of Action, our Head of Counter Terrorism Policing Matt Jukes, has recognised the vital role neighbourhood officers play in maintaining the truly local to global reach of Counter Terrorism Policing.
For many people, it might seem a significant leap to connect your local PCSO, with the world of counter terrorism and national security.
You might ask, what does the neighbourhood police officer who I see patrolling the local precinct, tackling anti-social behaviour in town, speaking to children at the annual lantern parade or responding to calls about burglaries on my estate have to do with terrorism?
Surely their job is arresting people for drug dealing or shop-lifting, working with schools to hammer home the dangers of carrying a knife, being approachable and making my street safer – they're not really responsible for protecting us from terrorists.
As Head of Counter Terrorism Policing in the UK, I'd say you'd be very surprised.
Every day neighbourhood policing teams live and breathe their communities, building relationships, looking for opportunities to prevent crime and to intervene as early as possible when things seem to be going down a dangerous path.
When it comes to countering terrorism, this means identifying those at risk of radicalisation, individuals who may be engaging in hateful extremism, people who are perhaps sharing such views, or grooming others into their way of thinking, or inciting violence to further toxic ideologies.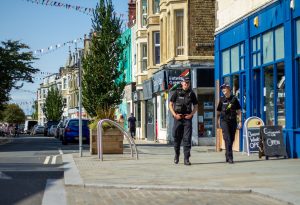 Our neighbourhood officers work, and sometimes live, in the spaces where this happens, they know when things don't seem right, and they are trusted by local people. Add in their professionalism, training and expertise and they know exactly when and how to take action.
Whilst it might be uncomfortable to think of this happening on your own doorstep, so many of our investigations begin with evidence or intelligence gathered by frontline officers, working in their community.
Last year, the final founding members of the proscribed terrorist group National Action were jailed as a result of a myriad of painstaking and complex investigations by Counter Terrorism Policing teams. The catalyst for one of those investigations was the work of a neighbourhood police officer, responsible for investigating stickering at a university campus. This collaborative approach from the very start, resulted in significant convictions for dangerous, terrorist offenders.
Another case saw a local policing team raise concerns with Counter Terrorism Policing colleagues, after they spotted worrying drawings and propaganda at an address linked to a burglary suspect.
Another example are our fantastic Project Servator teams, now operating in more than half of police forces across the UK, using a powerful combination of local knowledge and specialist training to spot anything that doesn't seem right and disrupt a range of criminal activity, including hostile reconnaissance.
This demonstrates how vital neighbourhood and community policing is to the Counter Terrorism Policing mission.
We are truly collaborative. Our network stretches across the UK, with regional Counter Terrorism Units working around the clock to keep people safe. We have officers, staff and investigators embedded in every police force, where they work alongside local policing counterparts, sharing intelligence, ideas and investigations.
Almost 40 late-stage terror plots have been disrupted in the last five years, and we are currently working on over 800 live investigations.
This wouldn't have been possible without the professionalism and support of our neighbourhood policing colleagues, together with our partners.
We say that every police officer is a counter terrorism officer. Our neighbourhood policing colleagues are the embodiment of this, making a significant contribution to the local to global reach we value so highly to help us counter a threat that knows no borders.
This week I'm going to be spending time with officers in parts of London, such as Chiswick, to see exactly how these close relationships between neighbourhood policing, CTP operational teams and our communities play out, each and every day.
We all have a responsibility to keep people safe and it's only right that, during Neighbourhood Policing Week of Action, we thank our colleagues for the contribution they make to this important mission.