Improving safety and security for spectators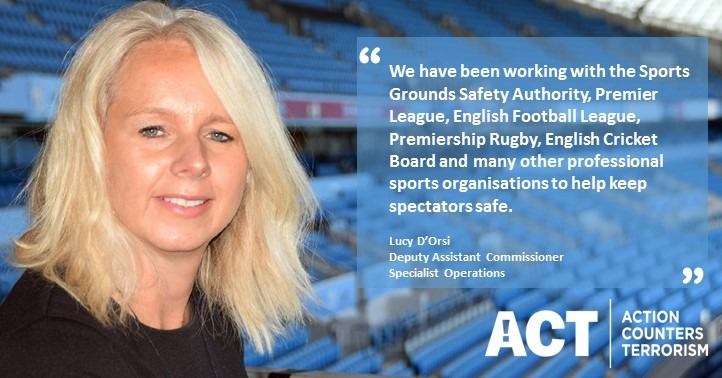 Counter Terrorism Policing has been working closely with sporting bodies and clubs across the country to help strengthen safety and security for spectators.
Officers have hosted a series of events where officials from football, rugby, cricket, horseracing and many other of the nation's favourite sports have come together to make events even safer for fans to enjoy the action.
More information about how to report suspicious activity can be found at gov.uk/ACT
"Attacks remain rare but sadly we have seen that terrorists will target crowded places and this includes sports events.
"The cooperation CT Policing has received from different sports organisations up and down the country has been tremendous. We have been able to learn a great deal from each other which is helping to improve the measures we take to keep everyone safe.
"We have also been asking clubs to share important information with their supporters through their programmes and social media sites. A few key messages so people understand what they should do in the event of an attack could save lives."
Lucy D'Orsi, Deputy Assistant Commissioner
National Lead Protective Security
Counter Terrorism Policing
If you are going to an even soon, here's a quick reminder of what you can do to help keep yourself and others safe:
• Arrive early, allowing more time for security checks
• Minimise what you carry, fewer bag searches will speed up entry to the ground
• Be vigilant at all times and if you see anything suspicious, tell a steward or member of staff right away
• If you see anything that could pose an immediate threat to safety, call 999
• In an emergency, listen to the Public Address instructions and follow them
• If told to evacuate, do so immediately, do not wait around to film events on your mobile
• Move right away from the stadium as quickly as possible for your own safety and to allow clear access for any emergency vehicles
• Once you are safe, follow local police on Twitter for updates
More information about how to report suspicious activity can be found at gov.uk/ACT