Counter Terrorism Policing is proud to celebrate Black History Month, Metropolitan Police Commander Ade Adelekan, who is responsible for security and aviation commands, writes about why it is important to get involved.
Black History Month means a lot of things to me, but I'd like to focus on it from a policing perspective.
Policing is all about people. Everyone who signs up to be a part of policing, wants to do the absolute best they can for the communities they serve up and down the country.
For us to be able to deliver a service that truly reflects our communities, we have to ensure that we understand people.
Black History Month allows us all, regardless of our colour, the time and opportunity to focus on Black people in particular, and to reflect on Black history and what it means to them.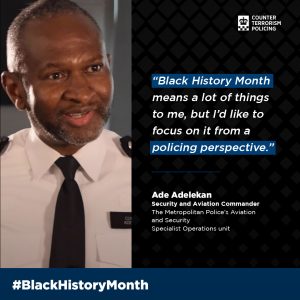 It is an opportunity to celebrate individual contributions and achievements. It also gives people who are not Black, a chance to walk in a different pair of shoes. By being open to that, it means that we can try to understand or appreciate some of the issues that others face. In turn, this enables us to police in a way that our communities want us to – fairly and with understanding.
We can all play our part, and I would love to see everyone take a moment, big or small, to reflect during Black History Month.
This can help open up a conversation about and increase our understanding of Black history and where we are today. Most importantly, it will provide an insight into how Black people are actually feeling, which allows the police to improve our response and earn the trust of the community.
We are all individuals, and the fact that I may look similar to someone else does not necessarily mean that we think the same, or our cultures are the same. Whilst there may be similarities, there will also be differences. This is how starting a conversation with your colleague, your peer, your neighbour, or even someone you know well, can help you understand the people around you better.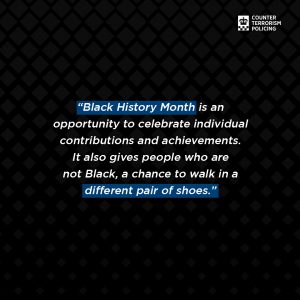 There are many events across Black History Month that you can take part in, and I encourage everyone, inside and outside of policing, to find the time to get involved. Even if it's a small act like reading an article or listening to a podcast to help broaden your own understanding of Black history and Black experience.
My wish is that one day, there will be no need for Black History Month. Instead, we would all strive to consistently and continually understand people who have different backgrounds and experiences to our own.
So let's work together to get to the point, across the world, where we don't need to mark months of the year, but we seek to understand people every day.
Ade Adelekan is the Security and Aviation Commander in The Metropolitan Police's Aviation and Security Specialist Operations unit. The Operational Command Unit (OCU) works to protect and police airports and keep people safe from threats, including terrorism.