Update
DAC Dean Haydon said, "Keeping the country safe from terrorism is a huge collective effort, only possible with incredible support from the public. It is a task that requires 100% of our focus, every minute of every day. Our focus is not on lawful protest or legitimate causes taken up by activists across the country."
If you want to read more from DAC Haydon here is his blog.
Counter Terrorism Policing creates a range of guidance and documents for use across the whole of policing, not just by Counter Terrorism officers or Prevent practitioners.  We produce these documents to help frontline officers and other colleagues make informed decisions – including protecting crowded places at times of protest. The 'Signs and Symbols' document, that has featured in press reports recently, was produced to help police and close partners identify and understand images they may encounter in their day-to-day working lives.
Why did you create this document?
CTP produce guidance to help frontline officers make informed decisions – including when protecting lawful protests.  But that doesn't mean the groups included are a CT threat, or even criminal. This is clearly stated at the front of the document.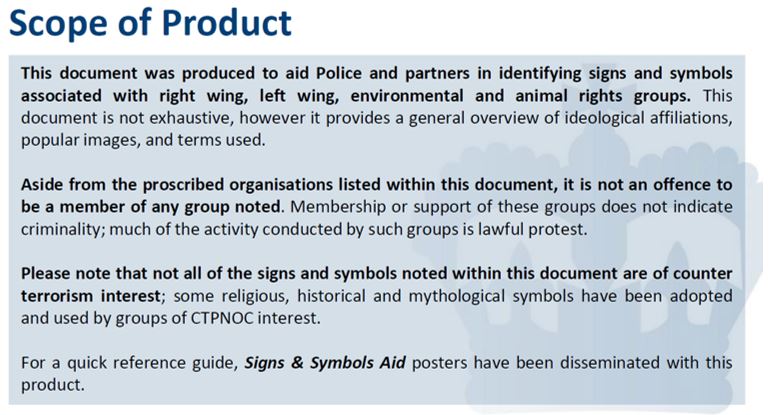 Why is the Ukraine constitutional trident on the document?
Unfortunately, far right groups have a history of misappropriating national symbols as part of their identity and this is the reason why some national flags and symbols appear in our document.
Are you going to remove the Ukrainian constitutional trident?
We have a close working relationship with our Ukrainian partners and would not want to cause offence. We have met with representatives from the FCO and the Ukrainian Embassy, updated the Signs & Symbols Guidance Document and removed the Ukrainian constitutional trident.
Why are lawful groups included in an extremist list?
The CTP Guidance is not an extremist or terrorist list.  It is guidance that includes a range of signs and symbols that officers may come across. It is designed to help them recognise the lawful, as well as the unlawful.
Why are other symbols or organisations not in there?
The guidance was created based on conversations with officers and partners and is designed to support them.
Why was this document used by Prevent?
It is useful for Prevent practitioners to understand the range of organisations they might come across. That doesn't mean membership or affiliation with the non-proscribed groups would trigger a Prevent referral, or that we consider non-violent protest as a potential indicator for extremism.