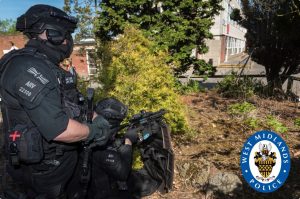 West Midlands Police, together with partner emergency services, took part in a live-play training exercise last week to test response to a major incident. 
The exercise, which spanned three days between 14 and 16 May, took place at a number of locations across the West Midlands including the empty Woodlands School in Coventry, a residential street in Birmingham, abandoned farm complex in Warwickshire and ended at Wolverhampton Racecourse.
The exercise was designed to enhance the skills of emergency responders when managing a major incident and was not in relation to any specific threat.
It was just one of many exercises held regularly across the country and provides invaluable training and experience for all our staff. Preparation and testing is integral in helping us to ensure the UK is resilient.
Details of the exercise were not shared publicly to allow the emergency services to respond spontaneously as they would in a real incident. The areas were tightly controlled and the public were not involved.
The exercise highlighted the strong working relationships between West Midlands Police, West Midlands Fire Service, West Midlands Ambulance Service and our partners.
Assistant Chief Constable Matt Ward, from West Midlands Police, said: "Exercises like this are important as they enable us to test out our ability to deal with large scale incidents. I would like to thank everyone who made the exercise possible – Coventry City Council, Birmingham City Council, Wolverhampton racecourse, our ambulance and fire colleagues, and of course the local communities for their support.
"The exercise was not based on any threat or intelligence and although it is unlikely that an incident like this would occur, recent international events have once again highlighted the importance of public organisations testing their emergency response procedures to assure the safety of the communities we serve.