As we look ahead to the new year, we wanted to look back on the role that Counter Terrorism Policing has played in protecting the public by investigating, preventing and deterring terrorist activity throughout 2021. This involves the launch of new campaigns, a sneak peek at the world-leading new Terrorism Operations Centre, and a change in the threat level…
As the number of children being arrested for terrorism offences increases at an unprecedented rate, during 2021 Counter Terrorism Policing teamed up with the UK's biggest parenting website – Netmums – to help parents protect their children against terrorist grooming.
The four-week partnership saw Netmums promote ACT Early – a website which provides support, guidance and reassurance for loved ones who are worried about somebody close who may be susceptible to radicalisation and extremism.
The ground-breaking partnership with the popular parenting resource revealed that only 28% of Netmums users surveyed know how to spot the signs of radicalisation – even as the targeting of children by extremists online reaches record levels. With around four million parents visiting Netmums every month, Counter Terrorism Policing joined forces to provide website users with information, exclusive resources and support to help educate parents about the dangers of radicalisation, the signs to spot and how to act to protect their children – just like they would against any other type of online harm such as sexual exploitation or cyber-bullying.
Netmums users were able to access exclusive articles and digital content such as videos, as well as bespoke support provided by safeguarding experts via the website's forum and sponsoring a 'drop-in clinic' – where parents could ask a Prevent Officer questions and seek advice if they had concerns.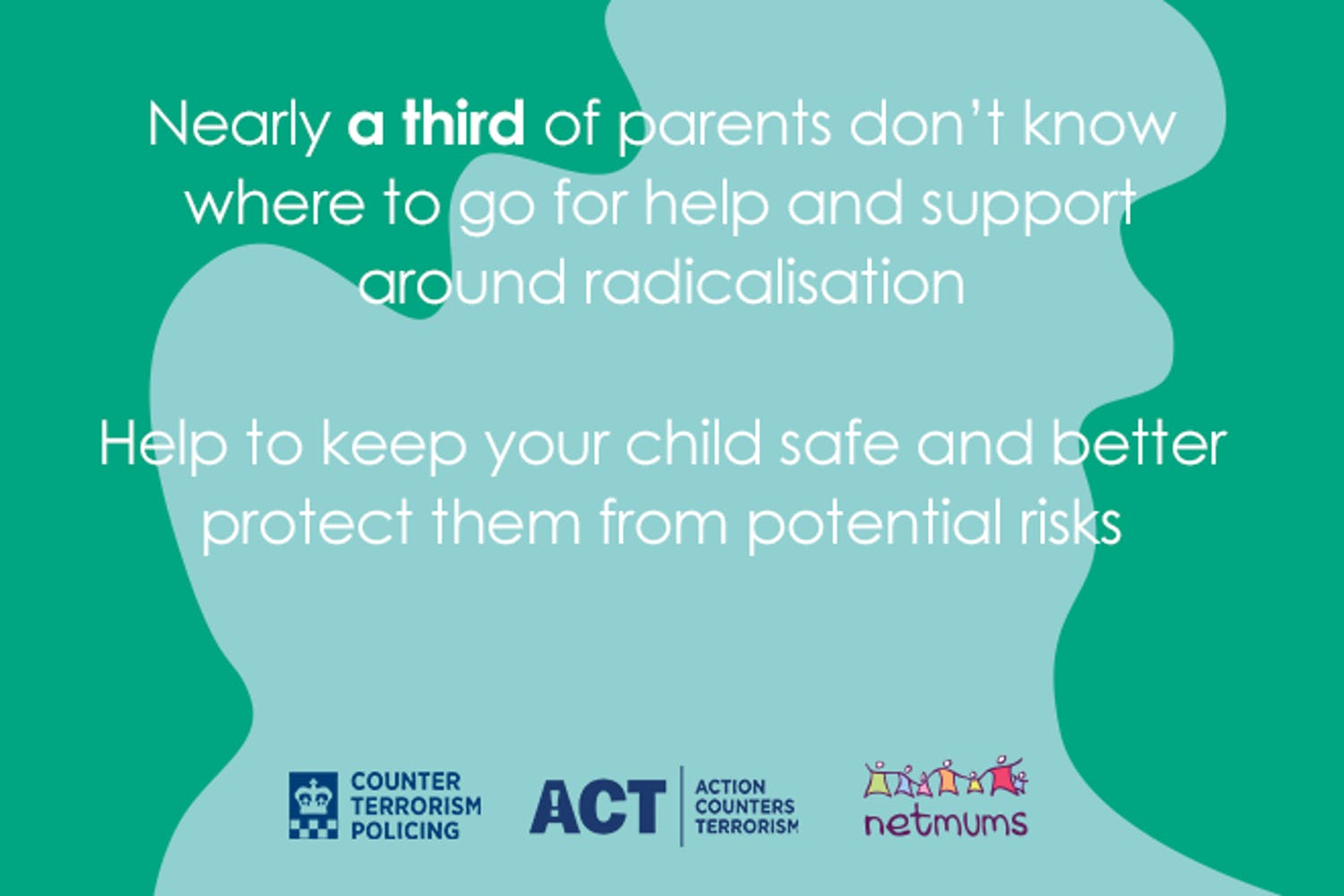 Chief Superintendent Nik Adams, CT Policing's National Coordinator for Prevent, explained:
"We must do more as a society to protect children from this threat and CT Policing want to help parents, friends and families recognise when children are becoming the victims of radicalisation,
"Family and friends are best placed to spot the worrying behaviour changes which can indicate that a loved one is heading down a path towards terrorism, but currently just 2% of referrals into Prevent come from that group.
"Not all children are vulnerable, but some are, and all parents should be aware of the dangers so they can help protect their child if necessary.
"That requires parents, friends and family to help us by talking to their children about what they view online, and acting early to share their concerns and seeking support if they fear someone they know and love is in danger of being radicalised.
"Asking for help is a difficult and emotional step, but we must see it for what it is – action which won't ruin their lives but may well save them. It is vital to act early."
THREAD | We've partnered with @Netmums to help parents better understand why they need to have online radicalisation on their radar, how they can protect their children against the risk and where to go for support. #NetmumsACTEarly #ACTEarly

— Counter Terrorism Policing UK (@TerrorismPolice) July 6, 2021