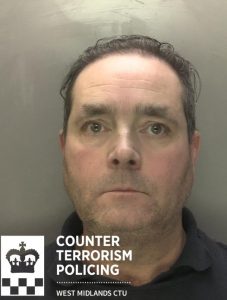 A Solihull man has been jailed for almost four years after admitting to posting material online to stir up racial hatred as well as supporting a far-right banned terrorism group online.
Richard Osborne, aged 53 from Marston Green, received a three year and 10 months sentence to two counts of publishing material intended to provoke racial hatred and homophobia.
From 2021 and up to his arrest in January this year, Osborne had used social media to post material which strongly indicated his support of white supremacy and neo-Nazi views.
Following his arrest, his property was searched. A baton was found in his car which had been adapted from a metal bar; he was charged with possession of an offensive weapon in a public place.
At his home, a shotgun was found under a bed; he was also charged with possession without a license.
He pleaded guilty to all the offences at a court appearance last month (12 May).
Detective Superintendent Anastasia Miller, from CTP West Midlands CTU, said: "By pleading guilty, Osborne admitted he held extreme far right views and through our investigation we were able to provide clear evidence he supported white supremacists as well as a proscribed far right group banned by the Government.
"Someone who holds extreme views against those that don't look like him or hold the same views is not welcome in our society. Today's sentence should be a clear message to those who intend to spread hate and terror, we will continue to work with partners and the CPS to protect our communities by pursuing and prosecuting such individuals.
"We work tirelessly to counter terrorism. Our absolute priority is to ensure the safety and security of the people who live, work and visit the West Midlands area."
Every year thousands of reports from the public help police tackle the terrorist threat. If you see or hear something that doesn't seem right, trust your instincts and ACT by reporting to police in confidence at gov.uk/ACT.
Reporting won't ruin lives, but it could save them. Action Counters Terrorism. Remember, in an emergency, always dial 999.